Parmegiani's De Natura Sonorum in which Incidences/Résonances is the first track, was published in 1975. Parmegiani later made a drawing of this music.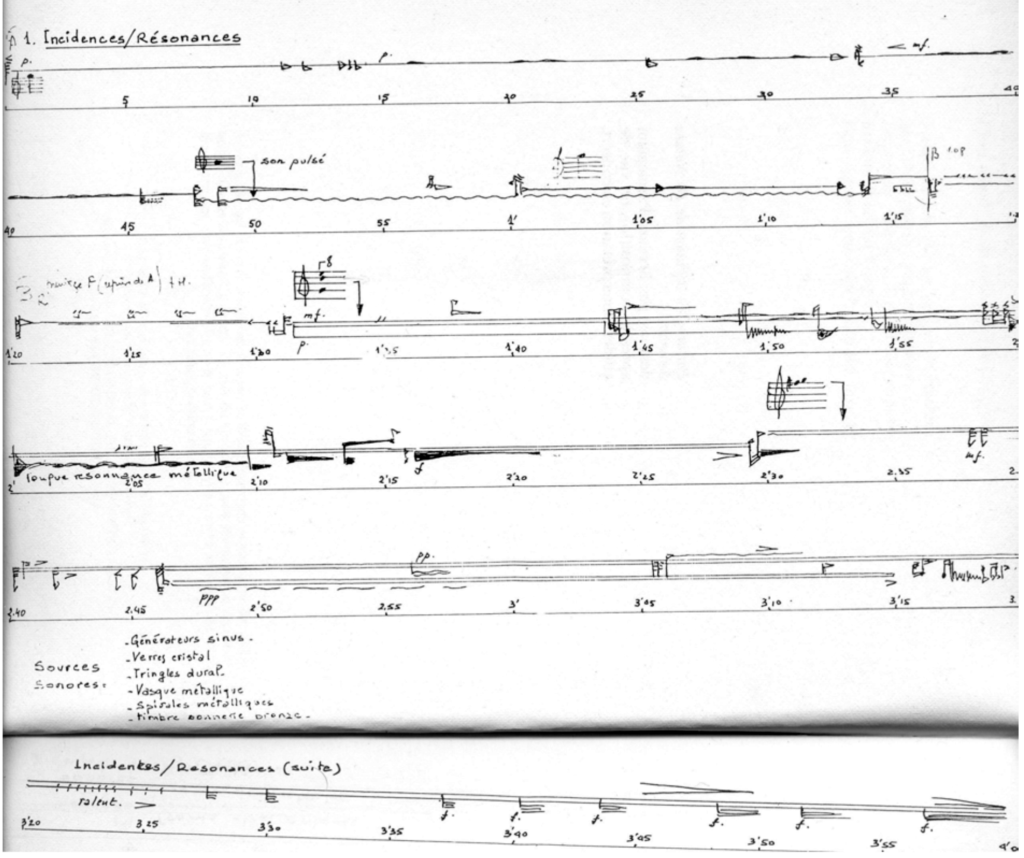 Listen to the original music here.
But Parmegiani is not the only one to translate this music into a drawing. Di Santo makes a much more detailed graphic score out of the piece in his Analysis of Incidences, résonances by Bernard Parmegiani with an acousmatic score (acousmoscribe) (2014).
I use both of these scores as part of my inspiration for transcribing this electronic music into a ensemble of only 13 musicians (1.1.1.1 – 1.1.1 – perc. – 1.1.1.1.1), but several other strategies are also in use.
the rhythmic structure of the music is transcribed with onset detection in Sonic Visualiser. And also the spectrogram in Sonic Visualiser helps  clarifying the frequencies in the more complicated part of the music.
the musicians of the ensemble (Aarhus Sinfonietta) have made several suggestions of possible sound alike based on a selection of samples I have provided them.
I have made two different transcriptions of the music. One which gives all the percussive sounds (incidences) of the music back to the percussion player while leaving the résonaces to the rest of the ensemble to play – an indexical version. Another which tries to recreate as much of the spectromorphologies of the music, not using any percussion at all – an acousmatic version.
A rule for both version is no amplification and no additional instruments.